Finding your ISBN or UPC

---
ISBN and UPC codes are unique catalog numbers that identify a particular item. They can be usually be found on the back of your item.
Here are some examples to help you find your item's ISBN or UPC number.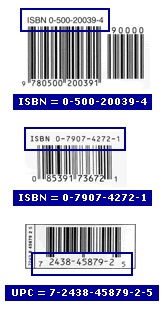 More tips on ISBN and UPC numbers:
If you can't find the ISBN on your book, try entering the UPC.

Some ISBNs end with an X—make sure you enter it as part of the ISBN.

While books may have more than one UPC-like barcode, each book has a single ISBN.

When entering UPCs, make sure you include any smaller numerals that appear to the left or right of the main barcode numerals.